Reciprocal clubs: Interstate & International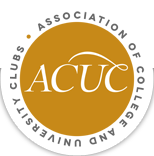 The University Club is a member of the Association of College and University Clubs (ACUC.)  The ACUC Network includes clubs in Canada, Australia, Israel, the Netherlands, Qatar, Sweden, the United Kingdom and the United States.
All ACUC member clubs honour a reciprocal agreement which allows individuals from a member club to visit any other ACUC club. The reciprocal agreement encourages fellowship among the various universities and enhances the lines of communication between the associated Clubs and their individual members.
A complete list of ACUC clubs can be found in the Club Directory here.
In addition, University House has private reciprocal arrangements with the following University Clubs in Australia:
The University Club of Western Australia
University House ANU
Membership with University House or The University Club confers automatic membership in the ACUC.
Please note: ACUC Membership and University House reciprocity is only available to clubs and members of clubs outside a radius of 10km of University House or University Club.
For more information and to discover the locations of reciprocal clubs world wide please visit the ACUC Web site.
---
About visiting other clubs
Each Club is a unique reflection of the university community it serves. The facilities and services available, as well as hours of operation, are quite different in each Club. To ensure an enjoyable visit to another Club, it is important to telephone ahead whenever possible to find out when the Club is open, and what services are offered to a visiting member. Often the Manager of a Club can assist members in arranging a visit to another Club by calling in advance.
Individual Clubs may have restrictions in the use of their facilities, or in the frequency of visits, which should be respected. Please check with the Club Manager regarding reciprocal privileges at another club.
---
Letter of Introduction
A letter of introduction, which we can email you, is required to visit many clubs. You must be a fully paid member and in good standing.
---
Payment for Services
Billing procedures are unique in each club, visiting members are generally expected to pay for all meals, beverages and other services at the time of their visit. Some accept credit cards or cheques. If you need to make other arrangements, please contact the club you wish to visit in advance.